Bio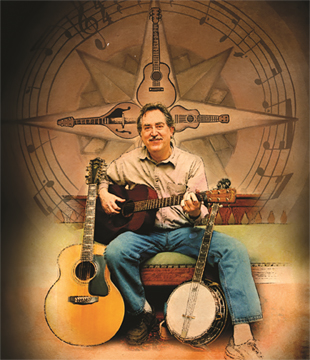 A singer/songwriter from Upstate New York, Phil has been a long time resident of New York's Capital District. He accompanies himself on 6 and 12 string guitars, 5 string banjo and the occasional ukulele, although not all at the same time.
Phil's songs cover a broad range of subjects, from personal experiences and family stories to political and social commentary, from seasickness to world peace, from environmental action to medical procedures, from faux Irish trad to faux sea chanties. He is one of the few proponents of a new subgenre, the land chantey, which adapts the sea chantey style for landlubbers. Over the years, many of his co-workers and friends have fallen victim to his parodies. Most have recovered. His musical stylings are influenced by pretty much everything he ever heard, and include folk, rock, blues and other genres, again not necessarily all at the same time.
He has performed for such dignitaries as the 339th Air Force Fighter Squadron Association, the Governor of New York and the Mayor of Albany, who remarked, among other things, that it was the first time she had heard a discussion of bodily discharges in City Hall. He frequently performs for fundraisers and public awareness and charity events.
Phil is the President of the Board of Directors of Old Songs, a Capital District organization dedicated to "…keeping traditional music and dance alive through the presentation of festivals, concerts, dances and educational programs". He is also Past President of the Board of Directors of SummerSongs and Co-Coordinator for the East Coast camps. SummerSongs mission is to "...encourage, support and promote the creation of songs and the work of songwriters". He has also taught several classes at SummersSongs summer and winter camps over the years.
His debut CD, "All Over the Map", was released in 2011, and his second, "Far and Wide", was released in the summer of 2015.
He fell in love with the guitar in Middletown NY at age 15 and immediately began playing drums and guitar, often badly, in a series of rock & roll bands that no one ever heard of (names provided upon request). On occasion he still tries to relive that experience, with varying degrees of success.
In his spare time, he creates art and sculpture from leftover, recycled and repurposed materials, variously known as assemblages, found objects or junque art.